Your next adventure starts here
Welcome aboard!
FACT is Fellowship Afloat Charitable Trust, providing exciting outdoor adventure activities at Tollesbury, on the UK Essex coast – a unique place for adventure, relaxation and exploring the environment.
For individuals
Whether you just want to chill or do serious stuff, FACT provides all you need to have a comfortable and useful time. Good food, company and a bit of time to think about life are all part of the package. Read more »
For groups
Youth groups, churches, community projects, uniformed groups and clubs all find a stay at Fellowship Afloat to be an essential component of their programmes. Read more »
For schools
Adventure, learning and fun in a safe and caring environment – tailored for your group. The coastal location changes the pace of life to create a special educational opportunity – and memories for life. Read more »
A wide range of exciting activities
Alongside our residential programme we have a packed calendar of opportunities for children, young people, adults and families.
A place like no other
It's only 50 miles from London, yet it's quiet and isolated. Walk out on to the sea wall and you're in another world of sparkling water, soaring sea birds and broad vistas. If you want a short tour of Trinity, our accommodation vessel, take a look at the video below
Meet a few of our team
Our centre is run by people who cover everything from leading the activities to running the office.
Support us
There are many ways to get involved and support FACT not just through donating, although that is very important, we also rely upon the skills, knowledge and time given by our volunteers and the prayers of our supporters.
Donate
Will you become part of Fellowship Afloat's future, enable a life changing experience or support a project.
Read more »
Volunteer
FACT has always relied on volunteers to help it achieve its mission to care for visitors through education, adventure and relaxation.
Read more »
Virtual gifts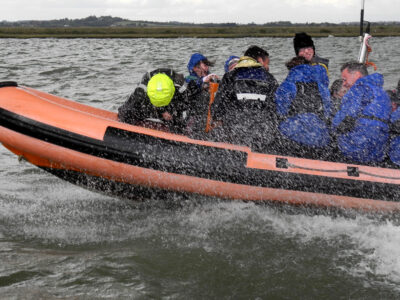 Fellowship Afloat's costs are subsidised by friends and supporters who regularly donate time and money to the running of the centre.
Read more »